10 juillet 2010
6
10
/

07
/

juillet
/

2010
11:58
  With the official support of the
XIV th Dalai-Lama
Lotus Productions – Film: The Last Call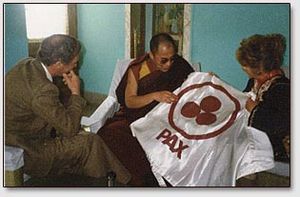 THE LAST CALL
JULY 2010
LOTUS PRODUCTIONS
25, Rue de PONTHIEU – 75008 PARIS
Ph: + 33 (0)1 53 89 77 52 – Fax: + 33 (0)1 53 75 15 66
Lotus Productions – Film: The Last Call
Scenario:
Jean-Claude Carrière
By the award-winning scriptwriter of Le Mahâbhârata, Cyrano de Bergerac, Bouvard et Pécuchet, Le
Hussard sur le Toit (The Horseman on the Roof) and more.
Original idea
: Pema Dhondup
Co-direction and adaptation :
Jan Kounen and Anne Paris
Executive Producer:
Lotus Productions
Manuel Collas de la Roche, producer of Darshan, the Embrace, directed by Jan Kounen (Cannes film
Festival 2005, official selection out of competition).
Co-producers:
Integral Film, Alfred Huermer – Germany,
Serendipity Films, Ambika Hinduja – India,
Yves Fortin – Canada (Executive Producer for Canada : Mrs Daniaile Jarry)
In association with Only Dreams India
– Mrs Capucine Henry
Associate producers:
Dublena Investments
Pema Dhondup, Corinne Benichou
Anne-Marie de Kalbermatten and Catherine Guyonvarch
Eliane Borter
Dominique Marzotto
Production Manager :
Sylvie Balland
Special Advisor
: Bob Thurman
Advertising Manager : Jean Elia
Artistic & Technical advisor
: Capucine Henry
Shooting locations:
India & Germany
Languages :
French, English, Tibetan
Schedule:
The beginning of shooting is planned for October / November 2010
Technical team :
Director of Photography :
David Ungaro
Editing :
Anny Danché
Sound :
Vincent Tulli
Production Designers :
Marie Hélène Sulmoni, Philippe Renucci
Costumes:
Namlha Takla (costume director for Kundun by Martin Scorsese).
Lotus Productions – Film: The Last Call
6
TABLE OF CONTENTS
PROJECT LOGLINE 7
PROJECT SUMMARY 8
PRODUCTION STATEMENT 9
DIRECTION STATEMENT 10
PROJECT CREATION 13
FINANCIAL PARTNERS 14
TALENT 18
APPENDIX 24
Lotus Productions – Film: The Last Call
7
LOGLINE
Documentary/fiction
Budget: €4 million
Coproduction: France – Germany – India
100' – Super 16 and 35 mm – Colour
Languages: French - English - Tibetan
More than just a documentary and much more than fiction, The Last
Call's biopic of the Dalai Lama's soul over its 13 reincarnations describes
the arrival of Buddhism in Tibet and its spread throughout the world.
These 13 reincarnations have represented 14 individual men bearing
one soul with a single voice of peace, one spiritually true path. A simple
statement of compassion.
La vallée du Skitmang, Ladakh Vue du monastère du Karchak, Ladakh
8
PRODUCTION SUMMARY
There are few film images of Gandhi; there are none, of course, of
Jesus or Mohammed. What if you were offered the chance to see these legends, to listen to them and to ask them questions in person?
Legends develop over time and the Dalai Lama is a living legend of our era. The 14th Dalai Lama is the absolute symbol of wisdom, but above all he is the 13th reincarnation of this spiritual leader!
How has this enlightened soul been sharpened by events to become the standard and symbol of peace he represents in the world today?
This is the subject of our film. Describing the spiritual history of Tibet and Asia, we hope to make our own contribution towards the resolution of this conflict.
Lotus Productions – Film : The Last Call
Skayrak region, Ladakh
PRODUCTION STATEMENT
The last call; the secret history of the Dalai Lamas
is an introduction to the Dalai Lama and his history, alternating between interviews, documentary material, archives and fictional
material.
Including exclusive interviews granted by the spiritual leader, this film will illustrate and put
into images a story still largely unknown to the general public; the course of one unique soul
throughout 14 peaceful representations of this leader.
To be discreet and transparent in the face of such a subject is more than an exercise, it is an
honour.
The words of the Dalai Lama have for a long time spilled over the walls of his monastery to
resound all over the world. The film is not a political statement but an epic story, the kind one normally learns from a
school book, and it is told by the one at the centre of the story himself.
We have conducted hours of private interviews with the 14th Dalai Lama to understand and to
recount the history, of his holiness and his 13 predecessors.
In many ways, it is an exceptional exercise because never before has the Buddhist spiritual
guide given over so much time to explain, to recount and to comment on how the Dalai Lama
is sought, chosen, educated and prepared for his role.
This is more than just a rich witness account; it is a veritable heritage with the blessing of the
highest Buddhist authorities.
So, the difficult question must be raised: in a more difficult, complicated and political context,
can the story continue?
Could the 15th Dalai Lama simply exist without being revealed?
"More than just a simple historical film, this will be a message of peace, compromise and
tolerance", says Manuel Collas de La Roche, "Our civilisation is at the crossroads of great
change and I hope that this film will help answer some of our questions!".
Lotus Productions – Film : The Last Call
DIRECTORS' STATEMENT
With this production, our aim is to uncover the line of the Dalai Lamas for our intended
audience, right from the legend of its origins up to the present Dalai Lama – quite present in
current affairs today -, Tenzin Gyatso.
Our aim is to take the spectators on a journey through 14 centuries of history taking place in
an extraordinary natural environment to uncover for them the ancestral culture of Tibet as well
as the spiritual and nonreligious teachings passed on by the Dalai Lamas.
Without conducting a history lesson or making a detailed summary of Buddhist teaching,
something quite impossible in a 90 minutes film, we will put emphasis on the historical context
from which the line of Dalai Lamas emerged and blossomed and we will initiate the spectator
in Tibetan philosophy by developing two ideas at the heart of its message: interdependence
and impermanence.  will use both images and sound to describe this universal spirituality, accessible to all
citizens of the world, guiding the spectator so that they may perceptibly reach the gates of a
unique "world", very different from the one we know.
For the success of such a project, the production and content of our film will be intimately
linked.
We will use three methods of representation: 3-D animation, cartoon film and film
footage.
The first will be the development of a 3-D Mandala which will be our main guide, based
on the Wheel of life Mandala.
This Mandala has a particular meaning. It represents all of the forms of existence from which
one must be liberated in order to reach the cycle of reincarnation and to light the way for the
journey of the soul, from the moment of death until the next reincarnation.
In Buddhist philosophy, it also symbolises the interdependence of all living phenomena and
energies constituting the cosmos.
Passing through the gates of this three-dimensional structure, we will travel to the past, to the
present and to the future. We will skip from one part of the story to another, from one Dalai
Lama and his reincarnation, from history to legend and from footage to historic reconstruction.
The second mode of representation is the use of real film.
This will be used for the reconstitution of certain key events during the life of the Dalai Lamas.
We will begin by the life of Gendrün Drub, recognised as the first Dalai Lama. Then we will
continue with Ngawang Lobsang Gyatso, the great fifth; Ridzin Tsangyang Gyatso, the sixth
Dalai Lama and a poet who would refuse his destiny and Thubten Gyatso, great reformer and
prophet.
Lotus Productions – Film : The Last Call
11
We will also film key events in the history of Tibet which created the base for the emergence of
the line of Dalai Lamas.
We will also use film for the journey of the Tibetan travelling puppet theatre (which will act as a
second narrative guide) run by a father and daughter who travel from village to village through
the Tibetan landscape giving a show of mythological and historical scenes to spectators in the
villages.
These parts will be filmed using 35 mm.
We will film different people close to the Dalaï Lama, with whom we will conduct interviews
during their day-to-day life so that they will also narrate the film, on and off screen.
So, we will have accounts from Karmapa, the Dalai Lama's Oracle, certain monks and nuns,
and of course from the 14th Dalai Lama, Tenzin Gyatso.
His account will be the backbone of the film as he speaks with our intended interlocutor, Jean-
Claude Carrière.
Again, more than just filming them in a conventional manner, we hope to encourage them to
express themselves and to give a part of themselves in parallel to their images, regards and
sometimes their silence.
At this point, it is important to note that the actual Dalai Lama as well as the exiled government
are favourable and enthusiastic for this project however, for the time being, we do not know
how many interviews we may be given.
In case we cannot shoot the end of the film with the Dalai Lama facing the mountains and that
we cannot hold long conversations on the future of the line, we may propose a different end to
the film using the puppet theatre of the puppet master and his daughter.
These parts will be filmed using super 16mm film.
We will also be using archive images from video, cinema, photography as well as paintings
and illustrations melded together to create movements and to combine all of the sources of the
different elements into a unique treatment.
These sections will be digitised in high-definition.
The third mode of representation will be 2-D animation.
The graphical style of Tibetan representations will be used for this technique.
Mainly used for the credits at the beginning of the film, this will be used to produce certain
great historical sequences, such as the scenes of great battles or those taking place at the
heart of China.
Lotus Productions – Film : The Last Call
12
The cartoon film will also be an extension of the puppet theatre.
Indeed, some of these scenes will require the simultaneous movement of around 10 puppets.
We could, for example begin a sequence with the puppet theatre on film then fade into cartoon
film and to finish again with real film.
…
We hope that this film would discreetly give each one of us the desire to become better, the
wish to feel more compassion and love.
Such is the clear message expressed in the Shantideva prayer:
"For as long as space remains,
For as long as sentient beings remain,
Until then may I too remain
To dispel the miseries of the world."
This is the wish of all Dalai Lamas.
Whether or not we believe in this dimension of the story, there is an entirely human energy that
exists around the Dalai Lamas and orientated towards altruism and spiritual enlightenment
which we intend to illustrate and to transmit to a wider public.
Anne Paris and Jan Kounen.
Lotus Productions – Film : The Last Call
13
PROJECT CREATION
Pema Dhondup is a Tibetan filmmaker living in Los Angeles. He desires above all else to tell
the history of his country and the reincarnation of the Dalai Lama. Pema is the representative
of thousands of years of Tibetan tradition and culture and the highest Buddhist authorities have
placed their confidence in him for this film. He originally proposed the project as
Finding the
Dalaï Lama
to Manuel Collas de la Roche.
Manuel Collas de la Roche was enchanted by this partnership, above all because he had just
finished producing
Darshan
by Jan Kounen telling the surprising story of Amma the wise
woman from the south of India.
Corinne Benichou, an audio visual lawyer turned producer accepted to support Manuel Collas
de la Roche from the beginning.
Lotus Productions asked Jean-Claude Carrière to write the scenario from the original idea by
Pema Dhondup.
Then, within the framework of an international production, Manuel Collas de la Roche spoke to
Alfred Hürmer from Intégral Films who then agreed to be the German co-producer and
Serendipity Film of Ambika Induja who agreed to supervise production in India.
Of course the film would be directed by his faithful partner Jan Kounen and co-directed by his
partner Anne Paris.
Anne and Jan immediately accepted to direct the film and began working with Jean-Claude
Carrière right from the start of the adaptation.
The scenario is ready. Shooting of the film has been planned for October 2010.
Lotus Productions – Film : The Last Call
14
Manuel Collas de la Roche is an accomplished producer having developed and produced
"Darshan, the embrace", directed by Jan Kounen, the film was in the Official Selection (out
of competition) at the Cannes Film Festival in 2006. Darshan is the story of the Saint
Amma, "the Hugging Saint", who has embrace millions of people.
Manuel Collas de la Roche and Paul Vilano created Lotus Productions, they renew their
collaboration with Jan Kounen and Anne Paris by producing "The Last Call", written by
Jean Claude Carrière. A story illustrating the history of Tibet and the reincarnations and
the institutions of the Dalaï Lamas which shooting will start in october 2010.
Lotus Productions will also co-produce with Integral Film, Alfred Hürmer, the compelling
Franco-German feature film based on the true story.of Erwin Dold, "Ciel et Terre" written
and directed by Christian Schumacher.
"Ciel et Terre" tells us the story of the 24 year old ex pilot Erwin Dold who became a
prisoner camp commander during World War II and then decided at the risk of his own life
to act against tyranny by protecting his own prisoners. In 1946, he was the only nazi
prison camp commander to be set free by the French High Court for having shown
responsibility and humanity. This film will benefit from the superb cast of Matthias (Erwin)
Schweighöfer (confirmed) and Anna-Maria (Irene) Mühe (confirmed), Gérard Depardieu
proposed cast, Jean Reno proposed cast, russian actor..... shooting spring 2011.
Lotus Productions aims at co-producing films with Europeans, American and Indian
partners from his well established international network.
Manuel Collas de La Roche, once a Buddhist monk at the side of the Dalaï Lama, has a
spiritual and philosophical focus in all his work, their movies carry messages of peace, of
reconciliation and of the convergences between the philosophical beliefs of the East and
the West.
FILMOGRAPHY
14
PRODUCER
Lotus Productions – Film : The Last Call 15
FINANCIAL PARTNER
Alfred Hurmer
Alfred Hürmer & Integral Film
Integral Film was founded in 1985 for developing and realizing primarily ambitious film productions
for cinema, often in the context of European co-productions. Since 1995 Alfred Hürmer has been
the Managing Director. Integral Film is based in Berg, near Munich.
Filmpolitical Engagement of Alfred Hürmer
He is a member of Managing Board of "Verband Deutscher Filmproduzenten", member of
Administrative Board of "Filmförderungsanstalt-FFA", Chairman of "German Films", President of
"Les rendez-vous franco-allemands du cinéma", Member of European Film Academy, Member of
German Film Academy and Founding Member of "L'Académie franco-allemande du cinéma"
Filmography (selection)
2008 Mr. Nobody
, Regie Jaco Van Dormael, Co-Production
Competition Venice 2009, Official
Selection Toronto 2009.
Clara
, Helma Sanders-Brahms, Co-Production
Festival de Tokyo 2008.
2007 Il y a longtemps que je t'aime
, Philippe Claudel, Co-Production
Competition Berlin 2008,
nomination Golden Globes 2008.
La File coupée en Deux
, Claude Chabrol, Co-Production.
2006 Un Secret,
Claude Miller, Co-Production.
Le Concile de Pierres,
Guillaume Nicloux, Co-Production
, Rome Festival 2006.
2005 L'Ivresse du Pouvoir,
Claude Chabrol, Co-Production,
Competition Berlin 2006.
OFFSET
, Didi Danquart, Co-Production
Rome Festival 2006.
2004 L'Annulaire
, Diane Bertrand, Co-Production.
20 Nuits et un Jour de Pluie
, Lam Le, Co-Production.
La Mademoiselle d'Honneur,
Claude Chabrol, Co-Production
Competition Venice 2004.
Lucky Luke vs. The Daltons
, Philippe Haim, Co-Production.
2001 TOSCA
, Benoit Jacquot,
Competition Venice 2001.
2000 Annas Sommer
, Jeanine Meerapfel, Co-Production
Thessaloniki Festival 2001, Competition
Mar del Plata 2002.
1997 Combat de Fauves
, Benoit Lamy, Co-Production,
Competition Venice 1998.
1996 Rossini
, Helmut Dietl
Bundesfilmpreis in Gold und 3 weitere Bundesfilmpreise, Bayerischer
Filmpreis.
1995 Hey Stranger,
Peter Woditsch, Co-Production,
Brussels Filmfestival 1995, Filmfestival von
Hof.
1994 Historias del Kronen
, Monto Armendarix, Co-Production
, Competition Cannes 1994.
1993 Wiederkehr,
Abrescia-Rath,
Competition San Sebastian 1993.
Lotus Productions – Film : The Last Call 16
17
FINANCIAL PARTNER
Ambika Hinduja
Ambika Hinduja, an alumnus of the London International Film School, started by assisting in
the director Subhash Ghai on the banner production "Yaadein". and worked on Farhan Akhtar's
recent war film "Lakshya."
In 2003, she launched her own production house Serendipity Films, and released her first film
"Being Cyrus" in 2005. Her follow up production Teen Patti was released in early 2010.
Lotus Productions – Film : The Last Call
18
19
20
21
22
THE BANNER OF PEACE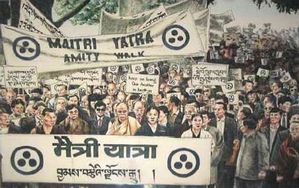 The history of international treaties shows us how many of
them were relevant and applicable to the times in which they
were signed, but then lapsed into irrelevance. The Roerich
Pact, however, has kept its heart and its life, and is linked to the
needs of today's chaotic world as much as ever. In many
countries, we see a deterioration of cultural values and a
disregard for the right of all cultural treasures to have their own
continued existence, forever protected and unimpeded.
One can only hope that a greater awareness of the importance of humanity's cultural heritage will increase,
rather than deteriorate.
There is no greater value to a nation than its culture.
In 1929, the complete text of the Pact with Roerich's accompanying message to the people of all nations
was published. The first and the second one paragraphs of the Pact said:
"The historic monuments, museums, scientific, artistic, educational and cultural institutions shall be
considered as neutral, and as such respected and protected by belligerents. The same respect and
protection shall be due to the personnel of the institutions mentioned above. The same respect and
protection shall be accorded to the historic monuments, museums, scientific, artistic, educational and
cultural institutions in time of peace as well as in war. In order to identify the monuments and institutions
mentioned, use may be made of a distinctive flag".
Roerich offered a distinctive flag and called it "The Banner of Peace". It should be placed on the objects
which must be protected. The design of the Banner shows three spheres surrounded by a circle in magenta
colour on a white background.
The Banner of Peace symbol has ancient origins. Of the many national and individual interpretations of this
symbol, the most usual are perhaps those of Religion, Art and Science as aspects of Culture, which is the
surrounding circle; or of past, present, and future achievements of humanity guarded within the circle of
Eternity.
October 25, 2004, Mr. Victor M. Afanasyev, Pilot-Cosmonaut of Russia, President, International League for
Protection of Culture, presented the Roerichs Banner of Peace, which had been in the outer space, to
Hon'ble Speaker of Lok Sabha, Mr. Somnath Chatterjee, who promised to preserve it in the Library of the
Parliament as a precious treasure. Roerich's idea was supported by the progressive public.
R. Rollan, B. Shaw, T. Mann, A. Einstein, H.G. Wells and many others approved Roerich's initiative.
In 1930, the draft of the Pact was submitted to the International Intellectual Cooperative Committee for
consideration. Nomination of Roerich's candidature for Nobel Prize showed the effect which his offer made.
While Nicholas Roerich worked in Urusvati Institute and led the expedition in Asia, the Roerich Pact and
Banner of Peace movement gre
w rapidly in Europe and America.
In 1931, in Bruges, the International Unity of Roerich Pact was organized under the direction of K.
Tulpaniuk, a member of Monuments Protection Commission in Belgium.
23
In September, 1931, the First international conference took
place in Bruges. Officials an members of social and art
organizations from different countries participated in this
conference.
Roerich said to the delegates:
"The idea of Culture presumes no distraction or abstraction but
reality of art; it is led by the wish of feat, labour, creation. The
Pact itself declared the necessity for protection of the cultural
product and activity of the world - both during war and peace without the roar of the guns when
helpless mistakes against Culture are made".
The plan for the propagation of Roerich Pact in schools and universities was worked out. Relations
with International Art Affairs Committee and Reduction of Arms Bureau were established.
In August, 1932, the Second Roerich Pact Conference was held in the same city, in Bruges. The
conference declared the Roerich Pact Treaty to be the international document. A special exhibition
was organized, where more then 6000 photos of unique architectural monuments, which needed
protection were presented.
The Third International Conference was called on November, 1933, in New York
D.C. Officials from 36 countries took part in it. The conference prepared a
recommendation for governments of all countries to adopt the Roerich Pact.
The Roerich Pact was the first document, which was agreed to by twenty-one
nations of the Americas and signed as a treaty in the White House, in the
Presence of President Franklin Delano Roosevelt, on April 15, 1935,
by all the members of the Pan-American Union. It was later signed by
other countries also.
The Pact itself declared an international necessity for protection of the cultural product and activity of
the world—both during war and peace—and prescribed the method by which all the sites of cultural
value would be declared neutral and protected, just as the Red Cross does with hospitals (indeed, the
Roerich Pact was often called The Red Cross of Culture).
The Pact of protection of cultural values created by him continued to attract supporters even after
Roerich's death.
24
In 1948, the Pact was approved by the Government
of India and in 1950, the New York Committee conveyed
the main articles of the Pact and all documents about its
history to the General Director of UNESCO, James Torez
Bodet (Mexico).
The Special Commission of UNESCO began to work out
a status which was offered to the conference on the issues of
education, science and culture. This conference was called
in the spring of 1954 in Hague.
This conference adopted the International Convention on
Protection of Cultural Treasures in Times of Armed Attacks.
Representatives from 37 countries signed the Hague Convention. So,
Roerich's political-diplomatic initiatives lived him through and became part of international
law.
ASSOCIATION FRANCAISE DE LA BANNIERE DE LA PAIX
www.bannieredelapaix-france.over-blog.com
06.61.03.28.43 – 04.68.74.20.92
Iera.thierry@gmail.com
25
26
Pema is a second-generation Tibetan. He was born and grew up in India. He
began his career as a filmmaker upon leaving the USC School of Cinema and
Television in 2002. Pema was awarded the prestigious Fulbright scholarship by the United States
government to study at the USC. He also holds an Indian MBA.
At the USC, Pema concentrated on directing and writing while learning necessary technical skills.
A diligent and sensible student, he was chosen to direct one of the four short films produced by the USC
during his second university year. This is the most coveted cinematographic experience for which cinema
students compete with each other.
Given the emphasis on creating real experiences in this class, students finishing their studies are ready to
produce almost any film.
A complicated psychological drama called ECHO based on the scenario written by a German student was
shot and produced as a short 16 mm film. Pema chose this film as his thesis.
He wrote, produced and directed the first Tibetan digital film called WE'RE NO MONKS. He brought together
an international team and used every means possible to make his first independent film. It was also an
attempt to show a new direction to his community. Inspired by the Italian neo-realism and particularly The
Battle of Algiers, Pema shot his film on location in Dharamsala where the headquarters of the Dalai Lama
was set up and transformed this little Tibet into a vast gathering. This factual story about Tibetan youth and
the fight from exile turned out to be a significant cinematic production, inspiring frustrated younger
generations to consider other methods of freeing themselves than violence.
Pema and his wife began the first video news bulletin of the Tibetan people called SARGYUR (The News)
using the non-profit organisation that they set up called TIBET COMMUNICATIONS.
Once more leading exiled revolutionary media, Pema created the Tibetan press club and was also the first
president.
In Development:
•
Shangri-la, the legend of the Buddhist warrior
•
In God's country
•
The Divinity
Directed Films:
•
We're no monks
Jan Kounen studied the artistic decoration in Nice (E.P.I.A.R.) focusing in the areas of cinema,
animation and pixilation. He completed his schooling in 1988 with a
Diplôme National Supérieur
d'Expression Plastique
(Superior State Diploma in Visual Arts). Promptly he made his first short films using
super 8mm and 16mm film (
LA MORT JAUNE/THE YELLOW DEATH and THE BROADWORD
) while also
making animated films for Dutch television. He then became assistant cameraman and director for video
clips and documentaries as well as reporter and cameraman for an agency.
In 1989, he directed the movie
GISÈLE KÉROSÈNE
that was awarded the overall short film prize at the
Avoriaz Festival and, the following year,
L'ÂGE DE PLASTIC
(The Age of Plastic) with the group ELMER
FOOD BEAT. While continuing writing his own projects (including the adaptation of the novel by Serge
Brussolo and television series
Gisèle Kérozène), he made first video clips for Pauline ESTER (
Le monde est
fou
– the world is crazy), ELMER FOOD BEAT (Daniela), CHIHUAHUAS and ERASURE ( Voulez-vous,
Lay
All Your Love On Me
). He also filmed several commercials in France, Germany and Great Britain for Nuts,
Peugeot, Tang, Gordon's Gin, Miko.
Jan KOUNEN wrote the project
VIBROBOY
in 1991 along with Carlo de BOUTINY and then filmed it in
1993. This short film won the research prize at the Clermont-Ferrand film Festival. He also made
CAPITAINE
X, a so-called unfinished short film, followed by LE DERNIER CHAPERON ROUGE (
the last
Red Riding Hood
) starring Emmanuelle BEART and working with Philippe DECOUFLE (choreography) and
Tetsuo NAGATA (cinematography).
Jan made his first feature length film called
DOBERMANN
in 1995 that was to be both controversial and
remarkable. He immediately left to Mexico and Peru to search for the background for his adaptation of
BLUEBERRY
. There, he discovered the shaman culture of the ibo-conibos with whom he fell in love. He
committed several months to them during which he filmed the feature length documentary
OTHER WORLDS
(released in 2004). He created the Association called SPIRIT OF THE ANACONDA and is planning a series
of 52 minute documentary films entitled
ANOTHER REALITY. BLUEBERRY
, his second feature length film,
was released on 11 February, 2004.
Since then, he has continued with several documentaries
AUTRES MONDES (other worlds) and
feature
length films such as
99 Francs and COCO CHANEL & IGOR STRAVINSKY
to be released at the beginning
of 2010 in France.
Selected Filmography/Director:
Blueberry, l'expérience secrète (A hallucinogenic experience)
D'autres mondes (Other worlds)
Darshan: the embrace
99 Francs
Coco Chanel & Igor Stravinsky
28
Anne Paris studied the artistic decoration in Nice (E.P.I.A.R.), Specializing in video,
sound and dance. She left in 1987 with a
Diplôme National Supérieur d'Expression
Plastique
(Superior State Diploma in Design Arts).
Anne became assistant director and writer for directors such as Régine Abadia, Mehdi Charel, Erik Ifergn,
Jan Kounen and Paul Planchon. From 1996, she directed video clips for songs sung by Pierre Bachelet and
the group GHOST. While continuing her writing projects (
LE COULOIR DU DESIR - The seventh door and
ELIXIR
), she made her first video clip for Pierre BACHELET (La Ville Ainsi Soit-il
), the group GHOST
(
Psyché) and made her first short film called
JE MARCHE…(I'm walking…).
She began working with Jan KOUNEN on
D'AUTRES MONDES (other worlds
) as a camerawoman and on
the documentary feature
DARSHAN
where she was director for the second team. Since then, she has
continued with several documentaries:
LARA FABIAN, INTIME, L'ESPRIT DU FILM (The spirit of film,
the
making of the film
BLUEBERRY by Jan Kounen) and
UN CRI D'HOMME SUR UNE TOILE VIERGE (The
cry of a man on a virgin canvas).
She has made several commercials as well as video clips for songs sung
by Florent Pagny, Aude, Lara Fabian, Raul Paz, Michaela Mendes and Rim'k.
Selected Filmography/Director:
Pierre Bachelet: La Ville Ainsi Soit-Il
Florent Pagny: Et un jour une femme
Lara Fabian: Immortelle
Lara Fabian: Bambina
Raul Paz: Mua mua mua
Michaela Mendes: Mon plaisir
Rim'k: Au coeur des conflits
Director of the second team:
Darshan: the embrace by Jan Kounen
Commercials:
Carte Bleue Visa
X Head
News stories:
TF1 program
Le temps d'un tournage
–about the film by Jacques Cortal
Quand je vois le soleil
Documentaries:
Lara Fabian, intime – M6
L'Esprit du film – TPS
Un cri d'homme sur une toile vierge
Amina (in production)
Vahina Giocante (in production)
29
Born in a small country village in the south of France,
Jean-Claude Carrière
studied classical students that
brought him to the ENS at Saint Cloud. While he was still a student, he published his first novel
Lezard
, and
he also met Jacques Tati and Pierre Étaix, well-known French comedians and filmmakers. Based on films
by Tati, he wrote
Les Vacances de monsieur Hulot (Mr Hulot's holidays), and Mon Oncle (My Uncle)
and
both books were illustrated by Pierre Étaix. Together they then made two short films:
Rupture and
Heureux
Anniversaire (Happy Anniversary)
, which won an Oscar in Hollywood. The following year, they wrote
Le
Soupirant (The Suitor - Louis Delluc prize),
followed by
Yoyo, Tant qu'on a la santé (While we are still
young)
and
Le Grand Amour (The Great Love).
In 1963, Jean-Claude Carrière met Luis Buñuel with whom he would work for 20 years (
Belle de Jour, Le
Charme discret de la bourgeoisie, etc
). He also worked with Milos Forman (Valmont),
Volker Schlöndorff
(Le Tambour),
Andrej Wajda (Danton), Louis Malle (Viva Maria, Milou en Mai), Jacques Deray
(La Piscine,
Borsalino),
Jean-Paul Rappeneau
(Cyrano de Bergerac).
In television, he wrote around 15 films, which won three
Sept d'or (
La Controverse de Valladolid - The
Valladolid Controversy
, among others). In theatre, following his first piece
L'Aidemémoire (the memory aid),
he worked for 30 years with Peter Brook during which time he wrote
Mahabharata.
He has never stopped
writing and publishing books including, more recently:
Le Dictionnaire amoureux de l'Inde (The Indian love
dictionary)
, Le Vin bourru as well as two recent essays published by Odile Jacob called
Fragilité (fragility)
and
Tous en scène (Everyone on stage!)
. He has written opera booklets and songs. He created and then
presided over the French State Cinema School FEMIS for 10 years. He is the president of the
Printemps
des Comédiens
(The actor's springtime) theatre festival in Montpellier and a member of the Board of
Trustees for the Guimet Museum. He is an officer of the French Legion of Honour.
Author of La force du Bouddhisme (the force of Buddhism), a book of interviews
with the Dalaï Lama.
Selected Screenwriter Filmography:
Le Journal d'une femme de chambre (Journal of a chambermaid), by Luis Bunuel
Yoyo, by Pierre Etaix
Borsalino, by Jacques Deray
Le tambour (Die Blechtrommel, the Tin Drum), by Volker Schlöndorff
Le retour de Martin Guerre (The return of Martin Guerre), by Daniel Vigne
Danton, by Andrzej Wajda
L'Insoutenable légèreté de l'être (The unbearable lightness of being), by Philip
Kaufman
Valmont, by Milos Forman
Cyrano de Bergerac, by Jean-Paul Rappeneau
La Controverse de Valladolid (The Valladolid Controversy), by Jean-Daniel Verhaeghe
Le Hussard sur le toit (The Horseman on the roof), by Jean-Paul Rappeneau